Tantric phone counseling with Goddess Diana
Sometimes it can be more comforting to discuss topics of a sexual nature to a complete stranger, some one who is not judging you and can allow you to look back, relax and contemplate private matters of the heart with greater ease.
There were times during my practice as a tantrika that my newer clients just needed a caring ear or a woman's perspective regarding their spouse's behaviors or needs. Part of my job as a healer is to be a nurturer and a good listener. Yes, there are many times during my ceremonies where I can connect on an emotional level with my clients and it is during these moments of back and forth conversational sharing and banter that I can learn the most about my own healing and the needs of my clients. I propose to those of you who feel a connection to me to try one of my ceremonies via a phone counseling session if you can not come out to see me here in Chicago. Or if you live here locally and you are too shy or not sure what it is I can teach you this is a wonderful opportunity for us to learn about each other in a safe setting where there is some interaction but no direct contact.

We can spend this time breathing together and connecting our energies together in a loving space that you will find non threatening and hopefully even enlightening. Here is a chance for you to taste a bit of tantra without making a full commitment and you can decide for yourself if I am the right goddess for your first tantric journey.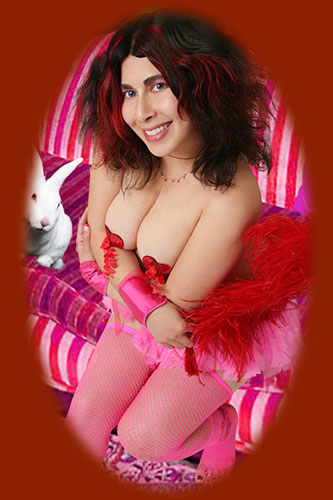 I consider myself to be deeply sensitive and empathic and I can tune into your energy and take you to a place of deep peace if you've had a trying day. If you are curious about some exercises that will create more healing energies in your base and sacral chakras I can teach you the rudimentary kegel pulsations you can practice on a daily basis. Or if you are currently enjoying some private home study with tantric materials that puzzle you I can bring more meaning to you and take esoteric terminology from these books and define the terms into simpler language so you can understand what you are reading.
Perhaps you have had a frantic week and you just need someone to help ground your energies, calm your mind and help center you back into a place of joy and confidence: I can use my knowledge of Reiki and help you heal your own chakras within the comfort of your own home.
If you are a regular client of mine but are unable to visit me due to travel or time constraints we can use this time together to reconnect and help you continue to practice tantra on your own so you can continue to improve before our next session we share together. Perhaps you just need a comforting voice or you feel compelled to reach out to me prior to a major event and you need a bit of encouragement: I am here and honored to share in your excitement or your concerns.

I usually recommend a full hour of uninterrupted time to allow us both the time to relax and go over homework or situations in your life you may find challenging. My background in tantra, massage, and reiki allow me to understand that need for deep human connection and phone counseling is part of the tools I use for sound healings and helping you open up areas in your throat chakra so that you can vocalize your needs in any relationship with yourself and in your communication with others.

Thank you for this opportunity to connect with you!