Celebrating the Goddess Herself
Men, during this session you will learn the Divine Art of transmitting love through your eyes, positive intentions, your open Heart Chakra, your soothing voice and your melting touch. Our focus will be on mindful and healing touch generating from your Divine male sexual energy and your Heart center. I will teach you how to fine tune your touch and be a more delicate vehicle for reverence and healing of the Divine feminine. We awaken the female energy with soothing and pleasant sounds known as toning of the Chakras and coming from a place of deep respect and intuition as we touch the Goddess. I will guide you into the Sacred Palace ... a Place of Hidden Jewels and Amrita. Yoni is a Sanskrit word meaning divine passage. The word yoni can also encompass other meanings: of "place of birth, source, origin, spring, fountain, place of rest, repository, receptacle, seat, abode, home, lair, nest, stable" (Monier-Williams I love to think of the Yoni as a beautiful butterfly yet to unfold. She is gentle, yielding, fragile and sensitive to the gentlest of touches. If the butterfly is respected and not oppressed with unyielding force she unfolds gradually healing all she touches and intoxicating all who see her in her ever evolving beauty. Worship the Yoni for her unique beauty and you will be rewarded to her nectars... the Golden Amrita....the fluid of ecstasy. Gaze upon the Blue Pearl ....dwell there and rest upon her richness. The blue pearl is a manifestation of the Soul and is Kundalini energy awakened and cosmically alive! During my Goddess Worship Celebrations I will lovingly guide you into my innermost Temple of Divine Sacredness. I will teach you the art of compassionate touch, and how to heal and send love to your beloved. During our ceremony you will become an avid listener to my body's rhythm and together we will celebrate the ritual of sacred intimacy and invoke the Power of Shakti energy. I will teach you sacred Hand Mudras to awaken Shakti and the power of light energetic touch so you can help send sexual energy from the yoni into the higher chakras awakening kundalini energy and expanding bliss.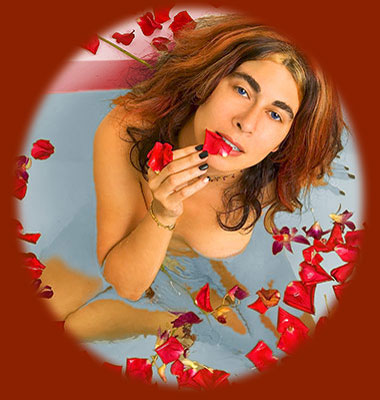 If you wish to bring a gift to the ceremony I love freshly cut creeping Ivy and pink sweetheart Roses. Other flowers I enjoy are purple and pink Lisianthus, pink or blue orchids, blue Delphiniums, chocolate Cosmos and pink or blue Hydrangeas. When in season I adore Snowberries and other wild flowers like pink Amaryllis, light blue Belladonna and Larkspur. Flowers are symbolic of the female Yoni and bring me a sense of deep connection to Universal Love and female delicacy. It is customary to offer the Goddess a small gift of freshly cut flowers and wild grasses such as Feather grass when worshipping her Yoni. Other gifts I love and adore are powder-blue, pastel pink or fuchsia silk panties (size small) to adorn my pleasure palace. My favorite lingerie store is Agent Provocateur in New York City. If you wish to purchase a special outfit for me at Agent Provocateur, I can wear it for you during part of our ceremony.
I also love the simplest of pleasures like the free and purest form of adoration you communicate to me with your attentive eyes and words.